Pica Pau Yarn Box #002 | Worsted
YARN BOX #002 "PICA PAU" of SUPER SOFT "PICA PAU" COTTON YARN | WORSTED - 16 FLAT BALLS
CAJA DEGUSTACIÓN #002 DE HILADO DE ALGODÓN SUPER SOFT "PICA PAU" | WORSTED - 16 Ovillos
We are introducing Argentina's first author yarn! The new "Pica Pau" super soft cotton yarn.
Developed together with the crochet designer and author of "Animal friends of Pica Pau", Yan Schenkel, this super soft cotton yarn hace the perfect torsion and mate finish ideal fall amigurumis and all kind of knitting designs were brightness is not desired.
We've created an unique colour palette following Yan's preferences and matching the same colour card used by her in the Pica Pau books. Also the colors has been specifically created to be easy to be combined between each other.
All colors has been developed in two different thiknesses: Worsted & Fingering
This yarn is recommended for amigurumi designs but also for all knitting projects were the final product will be in contact with sensitive skins thanks to it's extremeley softness: blankets, kids objects, garments, etc.
The color palette is based in the amigurumis form the Pica Pau books, the two already in bookstores and also the third book that will be launched by middle of 2020. If used for amigurumis, Fingering thikness is recommended for knitting all the garments and details and Worsted thikness is for the main part of them!

This box contains 16 flat balls of 100 grs of our Worsted yarn. A selection of one flat ball of each colour !
Presentamos el primer hilado de autor de Argentina! El nuevo hilado de algodón super soft de Pica Pau
Desarrollamos junto a la diseñadora y autora de los libros "El mundo de Pica Pau" y "La banda de Pica Pau", Yan Schenkel, una línea de hilados de algodón de una calidad y torsión premium con acabado mate. Hemos creado una paleta de color única, siguiendo los colores utilizados en todos sus diseños y logrando que los colores sean combinables entre sí.
Es un hilado 100% de Industria Argentina utilizando el algodón más fino del norte Chaqueño. Su acabado Super Soft se logra gracias al proceso de peinado de la fibra previo a la hilatura.
Estará disponible en 42 colores y en dos títulos (grosores) distintos, Worsted y Fingering. Vienen en una presentación de ovillos de 100 grs
Este hilado es ideal para ser utilizado en muñecos pero también para todos los proyectos delicados que estarán en contacto con pieles sensibles gracias a su extremada suavidad: mantas, objetos para niños, prendas, etc.
Su paleta de color está basada en los utilizados en los muñecos de los libros de Pica Pau, tanto los dos ya editados como el próximo a salir a comienzos del 2020. En breve estarán disponibles los códigos de color de nuestro hilado que se corresponde al utilizado en cada patrón de los libros de "El mundo de Pica Pau" y "La banda de Pica Pau".
Esta caja degustación contiene 16 ovillos de 100 grs de nuestro hilado Worsted. Es una selección de un ovillo de cada uno de nuestros colores!
Colors included in this box | Colores included en este set (#002):
#PP002 - Off White | Crudo
#PP005 - Butter | Manteca
#PP018 - Mustard | Mostaza
#PP008 - Brown | Marrón
#PP021 - Light Pink | Rosa Claro
#PP044 - Pale Salmon | Salmón Pálido
#PP026 - Coral | Coral
#PP029 - Rust Orange| Ladrillo
#PP010 - Mint | Menta
#PP015 - Bluish Green | Verde Azulado
#PP016 - Green | Verde
#PP017 - Oil Blue | Azul Petróleo
#PP033 - Blue | Azul
#PP034 - France Blue | Azul Francia
#PP039 - Graphite | Grafito
​​#PP040 - Black | Negro
Technical characteristics of yarn | Características:
Dominant Fibre | Fibra dominante: Cotton | Algodón
Composition | Composición: Combed cotton | Algodón peinado
Perfomance | Rendimiento: 170 mts each 100 grs | 186 yds each 3,5 oz.
Thickness | Grosor: WORSTED
Count | Título: 8/8
Nº of Threads | Nº de cabos: 8
Recommended Needles | Agujas recomendadas:

Crochet: 2.75 - 5 mm (2.75 - 3.00 mm recommended for amigurumis)
Tricot: 4.5 - 5.5 mm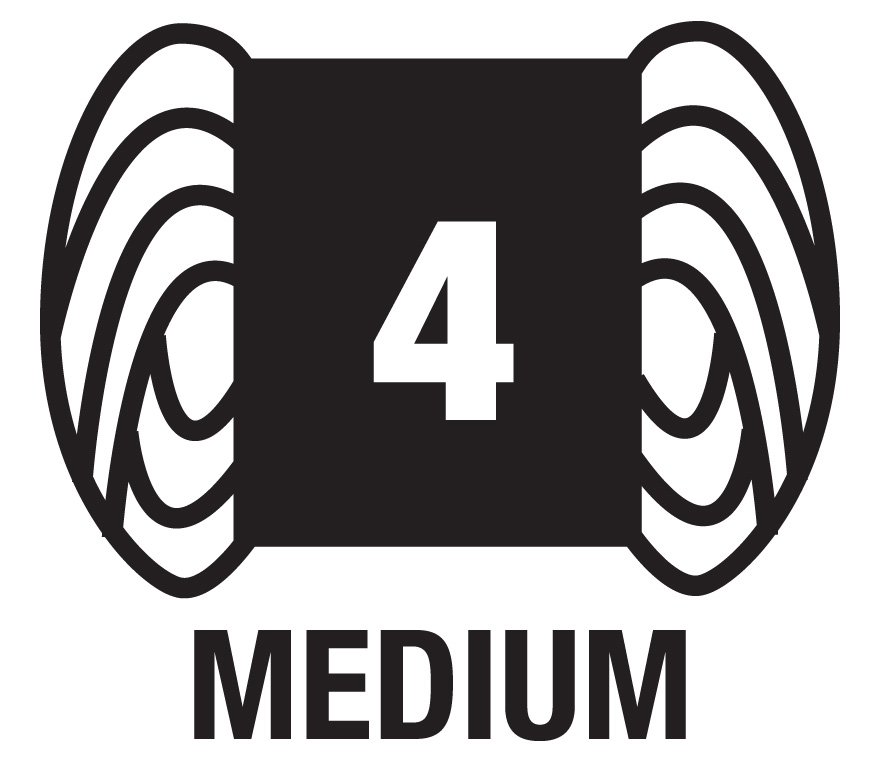 Price corresponds to cardboard box with 1,6 Kgs of yarn (16 flat balls of 100 grs -one of each color-)
El precio indicado corresponde a una caja de cartón con 1,6 kgs de hilado (16 ovillos 100 gramos - uno por color-)